Lab plastic consumables
We understand that affordable, high quality laboratory plastic consumables are an essential part of your research and laboratory needs. We offer a wide variety of high quality laboratory consumables for all your needs from Biologix and Greiner Bio One GmbH, two excellent manufacturers and suppliers of laboratory products.
Biologix is renowned worldwide for their centrifuge tubes, which come in 15 ml and 50 ml volumes, with flat top or screw on caps and sterile or non-sterile options. Other tubes include microcentrifuge tubes and test tubes. Another popular product from here is autoclavable pipette tips (10 µl, 200 µl, 1000 µl), which can be ordered either loose or in racks, as well as cryogenic vials, which come as either conical or self standing polypropylene sterile vials in 0.5 ml, 1.5 ml and 2.0 ml.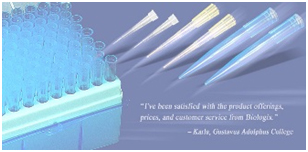 Greiner Bio One GmbH develop and distribute a wide spectrum of excellent quality cell and tissue culture consumables including cell culture multiwall plates, cell culture 96-, 384- and 1536-well plates, tubes, flasks, dishes and accessories under the product line CELLSTAR®. These can be used for standard cell culture as well as advanced cancer research, genetic engineering and viral diagnostic purposes. Find a wide array of RT-PCR products available here too, such as thin wall PCR tubes and PCR microplates.